Biden V.s Trump
On November 3, 2020, American voters get to choose between two presidential candidates with extremley different views on a range of policy issues.
In his reelection bid, President Trump is touting his management of the economy, promising a rapid corona-virus vaccine, and employing tough rhetoric on immigration and social unrest.
His opponent, former vice president Joe Biden, says he would reverse many of Trump's actions along with pursuing ambitious proposals to address the pandemic, racial injustice and climate change.
The Trump administration would likely maintain, and possibly accelerate the broad-scale regulatory scrutiny of technology companies that marked his first term. Mr. Biden, the Democratic nominee, has been critical of Big Tech's market power and has said he would support stricter antitrust oversight and online privacy rules.
There was a presidential debate on September 29, 2020, within the debate the candidates argued over the economy, the corona-virus pandemic, the Supreme Court, election integrity, and protest groups in the United States. The debate was held in Cleveland, Ohio at the Samson Pavilion of the Health Education Campus.  Chris Wallace, of Fox News, moderated the debate between the candidates. The debate was divided into six, 15-minute segments. The two candidates agreed to have two minutes of uninterrupted speaking after each opening question. Both candidates interrupted each other the entire time trying to make their statements. The debate was very messy because of this; the candidates disregarded all professionalism in order to get their own points across.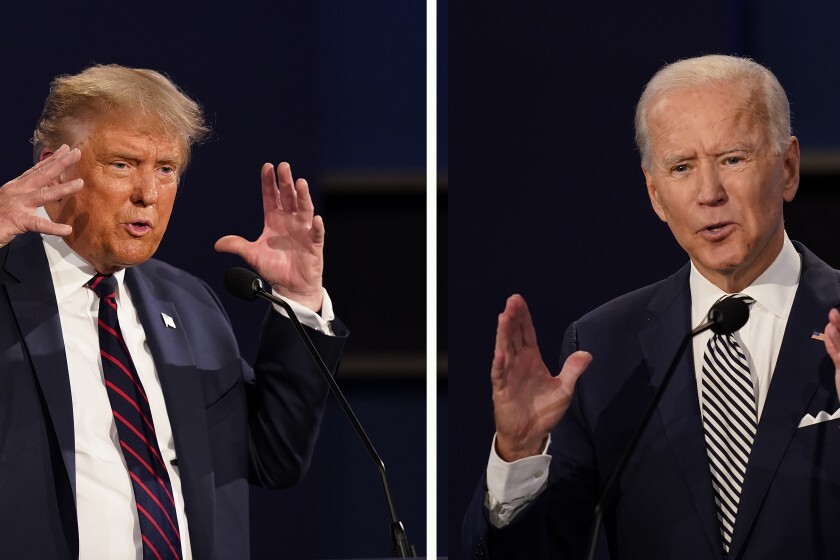 Trump and Biden at the presidential debate.
Both of the candidates had differing point of views on almost everything they talked about in the debate. The first differing point of view, wearing masks was a big discussion. Trump opposes the national requirement for mask-wearing, and has left it to states or local governments. Vice president Biden , as president, would place a national mandate to require masks. Another differing argument that Vice president Biden and president Trump had was the U.S. withdraw of the world health organization(who). The Trump administration notified United Nations in June of his intent to withdraw from the WHO over what he called the group's "China-centric" corona-virus repose.
Although they had differing points of views, they agreed on certain issues, such as schools reopening at this time during the pandemic. Trump has called on schools to open fully — although he said in July that "cities or states that are current hot spots, may need to delay reopening for a few weeks". Vice president Biden emphasized schools should make decisions safely based on the local conditions and the number of coronavirus cases.
If you can, who will you vote for? and why?.
Donald Trump and Joe Biden go head to head trying to get their point across.